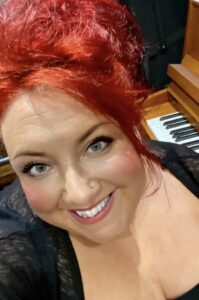 Lisa is the founder and director of Voice to Voice choir.
Voice to Voice began in 2014 and since then has grown in popularity and reputation as one of the best modern contemporary choirs in the North West. There are Voice to Voice choirs across Cheshire and Manchester.
Lisa's arrangements for the choir give Voice to Voice their unique rich sound.
In 2018 they were invited to perform at the Lincoln Centre in New York as part of Total Vocal with Deke Sharon the vocal arranger for the Pitch Perfect films. Singing with choirs from all around the world Voice to Voice was one of only three choirs invited to take part from the UK!
Voice to Voice has also performed at venues such as Media City for BBC North West, Events City for the Ideal Home Show, Manchester Central (Gmex) for the European science Olympics, ITV for carols at Xmas , Buxton Opera House with Swansea City Opera and Victoria Hall in Bolton.
Recently Lisa has begun to direct the choir bringing in other musicians, bands and ensembles as part of bigger projects.
Lisa is now in the process of launching the "Sing yourself to better health" project which is expected to launch in the autumn of 2022 at health centres across the northwest.